What is the rotary valve ? -3(Sanitary Type)
We would like you to know the rotary valve better.
Please look at below figure.
◆Introduction of each Rotary valve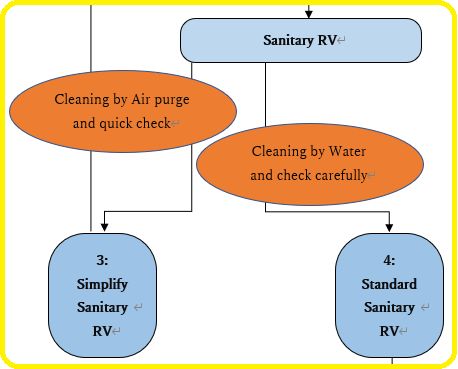 We would like to introduce Sanitary Rotary Valve (SMC).
The Sanitary type has a door opening/closing structure that allows easy access to the inside.
We recommend it if you often inspect and clean RV inside.
1.Standard Sanitary Rotary Valve.
The Standard Sanitary Rotary valve can be opened the door and separated the rotor.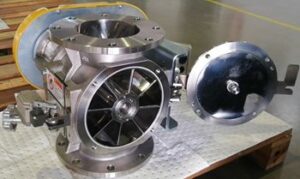 ※Another Sanitary Type (Made by other company)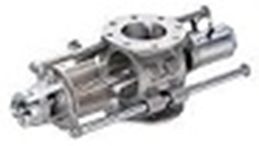 *Rotor and door are set parts. If you clean inside, pull out them along the slide rails.
The Comparison chart (standard type and Slide rails type)
Some customer request us slide rail type (Opening by cylinders).
Instead of it, we make our original structure type.
We show you below is comparison table slide rail type and our sanitary type.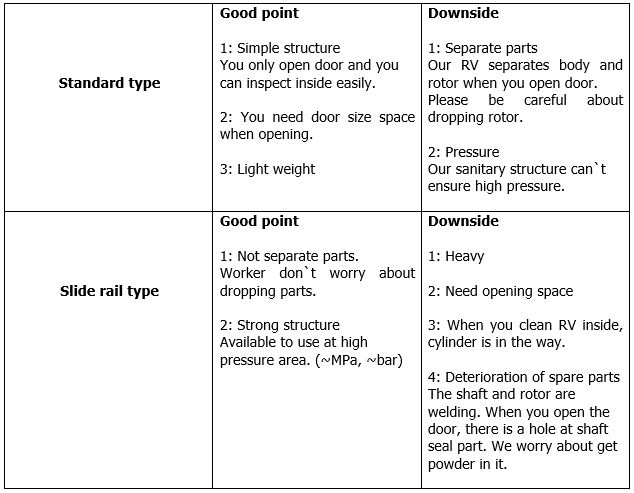 2.implify Sanitary Rotary Valve.
The Simplify sanitary rotary valve is different from standard type (Ref; Previous magazine). The Simplify type can open the door but can not take off the rotor. Therefore, you must know some things to note.
*1: You can use air when cleaning, not to use water.
*2: You can`t select pocket type rotor.
*3: Its structure ensure the pressure as same as basic type RV.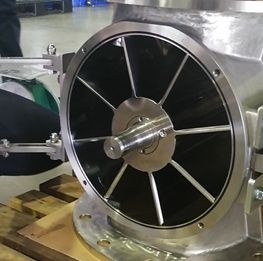 Next Mail Magazine.
About standard sanitary type`s variation