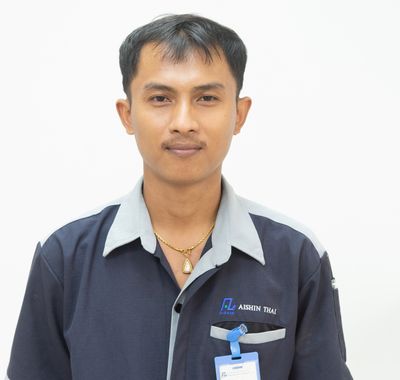 Name: Mr. Wasin Chanchai
Department: Manufacturing department
Work details (in charge of): Machining using a general-purpose lathe
Date joined: 31 May, 2019
I joined the company on May 31, 2019, and am in charge of lathe machining. I am trying my best to aim for 0% work error. If there is no work error, the quality of work will be improved and thorough internal quality standards will be enforced. Further, it will lead to customer satisfaction, so I strongly wish to achieve this goal.
The company is kind and friendly to each staff member. The staff are very close to each other, so I am glad to work in a happy environment.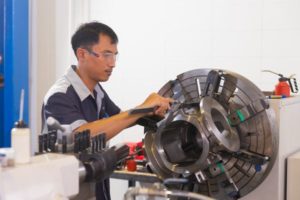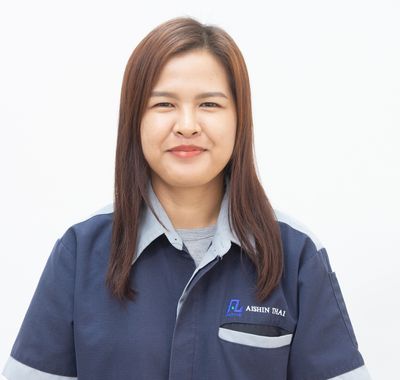 Name: Mr. Kamolchanok Salamadcharoen
Department: Manufacturing department
Work details (in charge of): interpreter/purchasing
Date joined: 20 August, 2018
Hello, I'm working as an interpreter with the nickname Nasrin.
Not only that, we also procure raw materials and parts necessary for manufacturing.
At first, I didn't know anything about the machines that the company produced and the knowledge of the industry, but I was able to understand more and more with the support of my boss and colleagues.
I think that it is an environment where I can work with peace of mind because not only the acquisition of knowledge but also the support of the company is being provided.
As the company also supports language learning, I will do my best with the goal of gaining more specialized knowledge while improving my language level as an interpreter.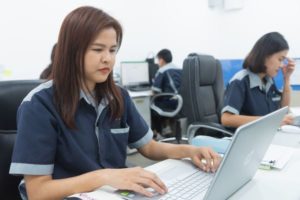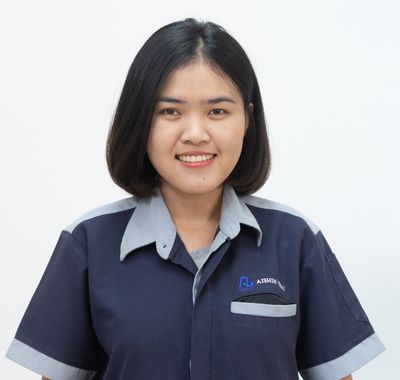 Name: Ms. Watsana Wapinea
Department: General Affairs Department
Work details (in charge of): Logistics/ordering
Date joined: 26 August, 2019
I joined the company in August 2019 as a person in charge of import/export and BOI. Currently I am also in charge of ordering work. Although it is still a short period, I was able to gain new knowledge.
At AISHIN INDUSTRIAL (THAILAND), our employees are very close to each other and produce high quality products. I'm not directly involved in manufacturing, but I have a strong desire to make the company better by being part of such an environment and doing my work.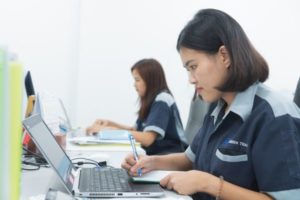 JOB

Lathe worker

SEX

Male

AGE

20~30

REQUEST

Driving license

DETAIL

–     Experience more than 2 years of operation experience of a general-purpose lathe in one company

–     Changed jobs less than 3 times

–     Military Status must be Exempted or Conscripted

SALARY

Base salary + Transportation expenses = 19,000 THB

OVERTIME RATE

Calculation based on labor law

FOOD ALLOWANCE

30 THB / Work day

INSURANCE

Social Security Fund + Medical insurance

RETIRING ALLOWANCE

Provident Fund
JOB

Assembler

SEX

No required

AGE

20~30

REQUEST

Driving license

DETAIL

–     Experience more than 2 years of assembly experience in one company

–     Changed jobs less than 3 times

–     Military Status must be Exempted or Conscripted

SALARY

Base salary + Transportation expenses = 18,000 THB

OVERTIME RATE

Calculation based on labor law

FOOD ALLOWANCE

30 THB / Work day

INSURANCE

Social Security Fund + Medical insurance

RETIRING ALLOWANCE

Provident Fund
JOB

Technician (Machining center)

SEX

No required

AGE

25~35

REQUEST

Driving license

DETAIL

–     Experience more than 2 years in Machining center in same company

–     Can use the interactive interface or G code

–     Military Status must be Exempted or Conscripted

SALARY

Base salary + Transportation expenses = 20,000 THB (Negotiable)

OVERTIME RATE

Calculation based on labor law

FOOD ALLOWANCE

30 THB / Work day

INSURANCE

Social Security Fund + Medical insurance

RETIRING ALLOWANCE

Provident Fund